Ingredients
Instructions
Wear rubber gloves or your hands will be toxic!!

Cut peppers into 2 (lengthwise)

Scrape out insides of peppers (the ribs are the hot part)

Firmly pack each side with Feta cheese

Top with shredded cheese mixture

Place on cookie sheet (lined with foil makes cleanup a breeze)

Bake at 350 for 20 minutes
---
Ingredients
2 large fresh (or from a jar) oysters removed from shell

2 Tblsp prepared cocktail sauce

¼ tsp Horseradish (to taste)

1 or 2 drops of Tabasco Sauce (to taste)

1 tsp Lemon Juice (to taste)
Instructions
Rinse well and cut oysters into small(ish) pieces (to make it easier to swallow)

Mix all ingredients in a measuring cup (easy to pour)

Pour into (large) shot glasses

Garnish with a green onion stalk… for looks… and to help get everything out of the glass
---
Ingredients
Instructions
Mix
---
Ingredients
Instructions
Mix
---
Ingredients
1 Tblsp chopped/minced garlic (fresh or from a jar)

1/4 lb of butter

1/8 cup of white wine (not sweet, just a normal table wine like Chardonnay)
Instructions
Sautee garlic in butter

Add wine

Simmer for a couple of minutes (to burn off the alcohol)
---
Ingredients
1 lb cooked shrimp (or uncooked then steam)

2 Celery sticks (and leaves) chopped

¼ cup of ketchup

¼ cup of hot sauce (like Tabasco, Louisiana… or the one with the chicken on the label)

Zest from 1 lemon

Juice from 1 lemon

Fresh ground black pepper

Chopped parsley (to garnish)
Instructions
Steam shrimp to cook (leave it a little underdone)

Add the rest of the ingredients

Garnish with chopped parsley
---
Ingredients
Instructions
Mix all at once

Place in a large covered bowl and let sit overnight
---
Ingredients
1 package of ramen noodles (any brand, any flavor)

1 cup water

1 (14 oz) can chicken (or beef) broth

Flavor packet (it comes with the noodles)

1 cup frozen mixed vegetables

Chopped Napa cabbage (about a cup)

Soy sauce (to taste)

1 Tblsp salsa (from a jar… fresh… doesn't matter)

1 or 2 drops of Sesame oil (not critical… but yummy)

Chopped green onions
Instructions
Combine broth, flavor packet and water in a large saucepan

Bring to a boil

Break up Ramen noodles (before opening the package – not as messy)

Add noodles and everything else
If you have any leftover chicken, pork or beef cut into bite size pieces and add now
Bring to a boil then turn down the flame and simmer for 5 minutes
Add chopped green onions as a garnish
---
Ingredients
7 pounds Fresh Zucchini (sliced

2 (14 oz) cans of chicken broth

1 medium onion - diced

2 cloves of garlic - chopped

1/4 cup olive oil

Black pepper (fresh ground is best
Instructions
Sautee onions and garlic in olive oil

Add broth, bring to a boil

Add zuchinni, cook until clear (falling apart-ish)

Puree with upright blender (see pic)

Pepper to taste
Option - add cooked broccoli (yummm)
---
Ingredients
3 14oz cans of low-salt chicken broth

Premade/fresh tortellini (any flavor works)

2 Tblsp of fresh rosemary (stuff into a teaball)
Instructions
Put broth into a saucepan, drop in the teaball filled with fresh rosemary

Bring to a boil, let reduce until the house smells like rosemary (or until you like the flavor)

Drop in tortellini, cook til tender (about 5 minutes)

Remove teaball, throw away rosemary
---
Ingredients
4 medium yellow onions

2 Tblsp butter

2 (14 oz) cans of beef broth

1 (14 oz) can of chicken broth

1 Tblsp Worcestershire sauce

½ cup red cooking wine
Instructions
Microwave onion and butter in large bowl until onions are clear.

Add broths and wine

Cook on high for 5 minutes

Pour over crusty bread in individual serving (oven safe) bowls

Top with mozzarella or jack cheese

Bake at 350 or broil until cheese melts
---
Ingredients
1 can Nalley Noodles & Chicken (pic)

1 can of tuna (in water) drained

1 small jar of diced pimento (don't drain)

1/2 tsp Spike

Fresh ground pepper (to taste)

1 cup of crunchy Cheetos (pic)
Instructions
Mix the noodles and chicken with tuna, pimento and Spike

Stir in about 1/2 of the Cheetos

Microwave for 3 minutes

Remove from microwave and add the rest of the Cheetos
This recipe is designed after my father's version or a recipe my grandfather used to make. It only works with Nalley Noodles & Chicken... they're hard to find... but oh so worth the effort!
---
This recipe will save the day if you've got a sickie in the house, if you're not feeling well yourself… or even if you're just lazy and want a warm, brothy meal in a hurry!

The prepackaged, frozen pasta dinners come with everything you need. I embellish with mushrooms and cabbage, you can add whatever you like (think spinach, mixed-frozen veggies or leftovers from the fridge). Or just mix the broth with the bagged dinner and serve.

Ingredients:

1lb sliced white mushrooms (or your favorite)

Butter

1/4 cup white wine

One packaged, frozen chicken with pasta meal. I like Bertolli Rosemary Chicken with Linguine and Cherry Tomators or Macaroni Grill Chicken Florentine (see pictures below)

Two 48-oz cans or boxes of Chicken Broth (or fresh/frozen if you have it)

Two cups of Shredded, Mixed Cabbage (found in the produce section, usually packaged for cole slaw)

Instructions

Saute the mushrooms in butter, when totally limp, add the white wine.
Simmer for about 5 minutes.

Add the rest of the ingredients, bring to a boil then simmer until the cabbage is limp.

Serves 4ish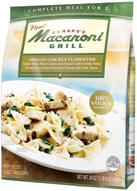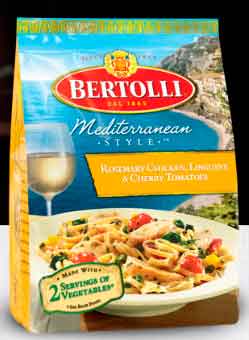 ---
Ingredients
Boneless skinless chicken thighs (about 6 or 8)

Extra virgin olive oil

Spike (see pic)

Fresh ground black pepper
Instructions
Coat chicken with olive oil and place in a microwave safe dish

Sprinkle one side with Spike (not too heavy)

Add fresh ground black pepper (not too light)

Microwave on high for 3 to 4 minutes (more if the pieces are huge)

Turn chicken over, season and return to microwave

Microwave on high for another 3 to 4 minutes (or until done)
This dish goes really well with saffron rice and Microwave Broccoli. And… save the drippings, freeze in a small (Pyrex) dish then add to Ramen Noodles in place of the seasoning packet.
---
Ingredients
¼ cup Olive Oil

6 to 8 pieces of Chicken (with bones)

1 Large yellow onion (ringed, thin)

2 cloves of fresh Garlic, minced

1 28 oz Canned diced (or crushed) tomatoes

15 oz Tomato sauce

½ tsp Celery salt

1 tsp Oregano

2 Bay leaves

1 tsp Salt

¼ tsp Black Pepper

¼ cup of Sauterne wine (sweet, white cooking wine)
Instructions
Brown chicken (both sides) in olive oil

Remove chicken from pan

Add onion and garlic, cook til onion is clear

Put chicken back into the pan

Add other ingredients

Simmer for 45 minutes

Add Sauterne wine, simmer for 5 or 10 minutes
---
Ingredients
Margarine or butter

½ cup seasoned breadcrumbs

½ cup grated parmesan cheese

1 egg – beaten

4 chicken breasts

1/8 tsp pepper

¼ cup white wine

1 Lb or 1 pkg fresh sliced mushrooms

Cooking sherry

1 pkg frozen spinach
Instructions
Mix bread crumbs, cheese and pepper

Dip chicken in egg, then into crumb mixture

Arrange on a plate and refrigerate for 30 minutes

Melt 1 Tblsp butter in frying pan, add chicken, brown both sides.

Turn down heat, turn chicken again

Add wine and cook for a few minutes then turn again.

In a separate pan - sauté mushrooms in 1 Tblsp butter til limp, add sherry, cook for 5 more minutes.

Defrost spinach in microwave. Don't season (add butter once defrosted… if you like)
Make a nest of spinach on a plate, place cooked chicken in the middle.
Top with cooked mushrooms, pour butter/sherry sauce over all.
Sprinkle parmesan cheese and fresh ground pepper.
---
This is especially rewarding when whole chickens go on sale. at .89 cents per pound you can make this recipe, which yields meat and broth for several meals, for around $4.
Ingredients
Instructions (chicken)
Unwrap the chicken, remove the bag from the cavity and give the chicken a quick rinse.

After rinsing the chicken, place in a crock pot that has been sprayed with non-stick
(no need to put any liquid in the pot, just the chicken).

Sprinkle your favorite spices on the chicken
(garlic, paprika, something premixed like Montreal Chicken Spice, whatever you love)

Place the lid on the crock pot, set it on low and walk away for about 7 hours.

Remove the chicken from the crock pot.
(DO NOT TOSS THE LIQUID IN THE CROCK POT)
Instructions (home-made broth)
Allow the chicken to cool, then remove the meat from the bones

Once you have removed all the meat from the bones, put the bones and skin back in the crock pot and add 5 cups of water and (optional) whatever vegetables you like (carrots, celery, parsley, etc.).

Set the crock pot on low and cover. Leave overnight. In the morning you'll have a crock pot full of bones and fabulous chicken broth.

Strain and freeze for future soup recipes
---
Ingredients
4 Halibut fillets (any firm white fish will do)

Salt

Fresh ground black pepper

1 Tblsp extra virgin olive oil

1 can artichoke hearts (drained and quartered)

3/4 cup low-salt chicken broth

1 tsp saffron threads
Instructions
Season both sides of fish with salt and pepper

Heat oil in a large skillet over medium-high heat

Add fish, cook about 2 minutes per side (less for thin fillets) or until golden brown

Remove fish from pan, set aside

To the same pan, add artichoke hearts, broth and saffron, bring to a simmer

Return fish to pan and simmer 2 minutes (or until fish is fork-tender)
---
Okay, so this recipe isn't as quick and easy as some of the others… but… when I'm craving this "dish from home," I'll do anything to get it. And… although it's not exactly the same as my dad's… he is definitely the inspiration!
Ingredients

The Meat
· 3 lb Beef (top sirloin butt, top round, or bottom round) Roast (with lots of marbling) — Frozen.
The Rub (Note: Dad doesn't do this part)
· 2 tsp garlic powder
· 1 tsp onion powder
· 1 tsp dried oregano
· 1 tsp dried basil
· 1 tsp fresh ground pepper
· ½ tsp crushed red pepper
The Juice
· 2 quarts of water (more water to taste if the juice gets too salty)
· 4 beef bouillon cubes
· ½ tsp garlic powder (more if you love garlic)
· ½ tsp onion powder
· 1 Tblsp dried oregano
· 1 tsp dried basil
· ½ tsp ground black pepper
· ½ tsp dried red pepper flakes
· ½ tsp Italian seasoning
· 1 bay leaf
· 2 Tblsp Worcestershire sauce
· 1 large or 2 small green bell pepper cut into strips
· 1 (bottled) roasted red pepper, cut into strips


The Bread
· A dense, crusty bread roll is required. French bread is too soft and will instantly fall apart when the juices get absorbed. If you live in the Chicagoland area… Gonella brand bread is the only way to go!
Instructions
Preheat oven to 300 degrees

Rub the seasoning onto the (frozen) roast. The recipe probably works if the roast isn't frozen, but I can vouch for how rare the center will be… and you do want it RARE! (Note: My dad doesn't put any seasoning on the meat when he makes this dish… it still tastes fabulous.)

Place the seasoned roast into a roasting pan (or a bread baking pan is fine too)

As soon as you can… put a meat thermometer into the beef. Cook until the center reaches a temperature of 125.

While the beef is cooking… or any time before serving, put all the ingredients for "The Juice" into a saucepan. Simmer until the peppers are really limp. You can actually make this at any time… but the house will smell wonderful if you cook the beef while making the juice.

Remove the beef from the oven. Tent with foil for 30 minutes, then put it in the refrigerator overnight. This last part is most important because you want the beef to stop cooking (keeping the center nice and rare), AND… it's easier to get thin slices when the roast is cold.

Add the meat drippings to The Juice. This step isn't critical.

Slice the bread and toast.

Slice the beef as thin as possible. I recommend using an electric knife or getting your butcher to do it for you. However… don't buy your beef from one store and then ask another to slice it. That's just bad form!
Serving: Heat up the juice, drop in the beef slices to warm them a bit. Put the sliced meat and some of the (by this time… really limp) peppers onto the bread. Ladle some of the juice onto the whole thing and enjoy. Tip: Put some of the juice into individual bowls so everyone can dip at their own rate.
This recipe makes (about) 5 or 6 sandwiches.
---
Ingredients
3 Lbs Corned beef (flat cut, not point cut) with plenty of fat marbled in beef

1 large yellow onion

6 large cloves of garlic

3 Tblsp yellow mustard

1 head of cabbage cut into 6 sections

4 or 5 Red potatoes (optional)
Instructions
Cover meat with plenty of water

Add onion, garlic and mustard

Bring to a full boil

Simmer 1 hour per pound

If broth becomes salty, add 4 or 5 quartered potatoes in the last hour

Add cabbage to broth and meat for the last 15 minutes

Remove meat, let it rest for 15 minutes

Slice into 1/4 inch slabs (against the grain)

Place slices into bowl, top with broth and cabbage
---
Ingredients
1 lb ground beef

1 yellow onion (diced)

1 Tblsp vegetable oil (any kind is fine)

1 (29 oz) can of diced tomatoes

1 (15 oz) can of kidney beans

1 (15) can of black beans

1 package of chili seasoning (any kind)

Cumin (a bunch... really... like 4 tablespoons... maybe more!)
Instructions
Sautee onions in oil

Add ground beef, cook till brown (not toasty)

Add everything else

Simmer for 10 minutes
You can either use all kidney beans, all black beans or or one can kidney and one can white... any kind of beans taste good.
---
Ingredients
Instructions
Place ham in a shallow baking dish (like a cookie sheet)

Put a couple pads of butter here and there

Pour some of the juice from the pineapple can on top

Broil for 5 minutes

Flip ham

Add more butter

Place rings on ham (as many as will fit)

Pour some Ginger Ale on the whole thing (reduces saltiness)

Broil for 5 minutes
---
Mongolian Beef (print just this recipe)
Ingredients

1/4 cup chicken stock

1 1/2 tablespoons cornstarch

3 tablespoons hot chili oil

2 tablespoons hoisin sauce

1 tablespoon oyster sauce

1 tablespoon dry sherry

2 teaspoons sugar

2 teaspoons soy sauce

2 teaspoons crushed red pepper flakes

1 pound flank steak, thinly sliced (see notes under Instructions)

2 tablespoons peanut oil

2 tablespoons chopped garlic

1 bunch Swiss chard - rinsed, stems removed and cut into 1/2 inch slices

2 green onions, cut into thin slivers about 2 inches long

1 teaspoon salt

1/4 teaspoon black pepper

Instructions

Whisk the chicken stock and cornstarch in a freezer safe bowl until smooth; whisk in the hot chili oil, hoisin sauce, oyster sauce, sherry, sugar, soy sauce, and crushed red pepper flakes. Place the beef into the sauce, stir to coat well. Cover and freeze until frozen, about 1 hour. Remove from the freezer and allow to defrost, about 30 minutes.

Heat a wok over high heat until very hot, and pour in the peanut oil. Immediately add garlic, cook and stir in the hot oil until fragrant, about 15 seconds. Mix in the Swiss chard and green onions; cook and stir the vegetables until they turn bright green and limp, about 3 minutes, and then remove from the wok.

Pour the defrosted beef mixture into the hot wok; cook and stir until the meat browns and the sauce forms a glaze, 3 to 5 minutes. Return the cooked vegetables to the wok, sprinkle with salt and pepper, mix to combine well; serve hot.

Note: Spread the flank steak out flat, cover with plastic wrap, and place in the freezer until partially frozen, 20 to 30 minutes. Remove from the freezer and slice the beef across the grain into very thin slices.

Serve with white or fried rice.
Makes enough for 2 hungry people, or 3 with small appetites.
---
Ingredients
12 oz "small" shell pasta

2 cans crabmeat (sift/sort to remove any shell)

1 (4 oz) jar of diced Pimento

1 Green pepper (diced)

Bestfoods/Hellman's mayo (about 3 heaping tablespoons, or to taste)

1/2 tsp celery seed

1 1/2 tsp garlic salt

1 tsp Accent (msg)
Instructions
Cook and drain pasta, rinse with cold water

Add all ingredients
For leftovers, add more mayo to remoisten
---
Ingredients
1 can or jar of artichoke hearts (quartered)

2 cans of Italian or Mexican style stewed tomatoes

1 tsp pesto

Angelhair pasta (enough for 2)

2 Tblsp Parmesan cheese (fresh grated or dry... save some
for presentation)

2 Tblsp Garlic/Basil Schilling seasoning

1 tsp Spike

¼ tsp Fresh ground pepper

¼ cup Extra Virgin Olive oil (or to taste)
Instructions
Cook and drain pasta, rinse with cold water

Rinse artichoke hearts

Add all ingredients

Sprinkle with extra Parmesan cheese and fresh pepper
Serve warm or cold… it's all good!
---
Ingredients
2 cans of white beans

Olive Oil

4 to 5 Tblsp balsamic vinegar

1 red onion, peeled, halved and thinly sliced

1 Tblsp fresh, chopped thyme leaves

Salt and fresh ground black pepper

2 (8-oz) Tuna steaks (or more small ones)

1 head of radicchio, halved

Coarsely chopped fresh parsley
Instructions
Place the beans in a bowl and toss with a couple tablespoons each of olive oil and balsamic vinegar

Fold in the red onion and thyme

Season with salt and pepper to taste

Preheat grill to high

Brush tuna and radicchio with oil and season with salt and pepper

Grill the tuna for 2 to 3 minutes per side or until slightly charred and cooked to medium-rare doneness

Grill the radicchio, cut-side down until slightly charred and wilted

Dice tuna into bite-size pieces and drizzle with balsamic vinegar

Slice radicchio into ¼ inch thick slices

Fold tuna and radicchio into white bean mixture

Sprinkle with chopped parsley
Serve warm or at room temperature
---
Ingredients
Red potatoes (quartered, skins on)

¼ pound (1 stick) of Butter

½ to ¾ cup of Whole milk

½ cup Parmesan cheese (fresh, grated)

½ tsp Spike

Pepper to taste
Instructions
Boil potatoes until "fork" soft

Drain, return potatoes to pan

Add milk and butter

Mash with hand masher

Stir in Parmesan cheese, salt and pepper

Add additional milk or butter if necessary (to taste)

Mix/whip with electric blender
---
Ingredients
Fresh Asparagus

Extra Virgin Olive Oil

Spike
Instructions
Cut hard ends off of spears

Lay in microwave safe dish

Drizzle with olive oil

Sprinkle with Spike (mix everything up)

Microwave on high for 6 minutes or until fork tender
---
Ingredients
Fresh Broccoli (enough for 2) cut to serving sizes

Water (very small amount)
Instructions
Cut hard ends off of each piece

Place in microwave safe dish

Microwave on high for 8-9 minutes or until fork tender
---
Ingredients
1 large egg

½ tsp salt

½ tsp dry mustard

¾ cup vegetable oil – divided into ¼ cup and ½ cup

2 Tblsp fresh lemon juice

¼ tsp crushed garlic (optional)
Instructions
Don't even think about making mayo if it's raining outside

Add egg, salt, mustard, garlic and ¼ cup oil into food processor

Process while pouring lemon juice through top hole. Begin to add remaining oil pouring into processing container in a thin stream.

When mayo starts to thicken, quickly pour in all remaining oil
---
Ingredients
Instructions
Mix everything together (shaking in a bottle works best)
---
Ingredients
1 ½ cup mayonnaise

1/3 cup buttermilk

¼ cup sour cream

2 Tblsp Worcestershire sauce

¼ tsp Tabasco (to taste)

5 oz Roquefort, crumbled coarse (about 1 cup)

Salt and fresh ground pepper
Instructions
Mix everything BUT the Roquefort in a bowl.

Whisk until smooth

Stir in Roquefort (you might need to mash it a bit)

Salt and pepper to taste
---
Ingredients
½ cup butter

1 (4oz) cup of chopped walnuts

½ cup light corn syrup

½ can sweetened condensed milk, about ¾ cup

1 cup packed light or dark brown sugar

½ tsp vanilla extract
Instructions
Generously butter bottom of an 8-inch square micro-safe baking pan

Add nuts

Shake pan to settle nuts into an even layer

Put remaining butter and corn syrup in a 2-quart micro-safe bowl

Microwave on high for 2 minutes or until butter melts

Add condensed milk, brown sugar and vanilla

Stir to smoothly blend

Microwave at medium power for 8-10 minutes (stirring well every minute or so until the mixture has a thick, caramel consistency.

Pour mixture over nuts in pan.

Tilt pan so caramel flows over nuts in an even layer

Let cool for 2 hours before cutting into squares
---
Ingredients
3 cups white flour

½ cup vegetable oil (a little less)

1 cup sugar

1 Tblsp Baking Powder

1 Tblsp Anise Seed (more if you really like licorice)

1 tsp vanilla

3 eggs

(option) 1/2 oz of Galliano liquor (add to vegetable oil to level out the 1/2 cup of fluid)
Instructions
Mix all ingredients (with greased hands is best)

Hand shape 3 (flat-ish)a slightly rounded 4 x 12 inch loaf that is about 1/2" to 3/4" thick on a greased cookie sheet (see pic)

Bake in 350 degree oven for 15 to 20 minutes

Slice into individual cookies while still soft/warm

Place cookies on their sides and toast in oven (5-6 minutes per side... see pic)